Oregon is where we go to run into fellow PSMINI members: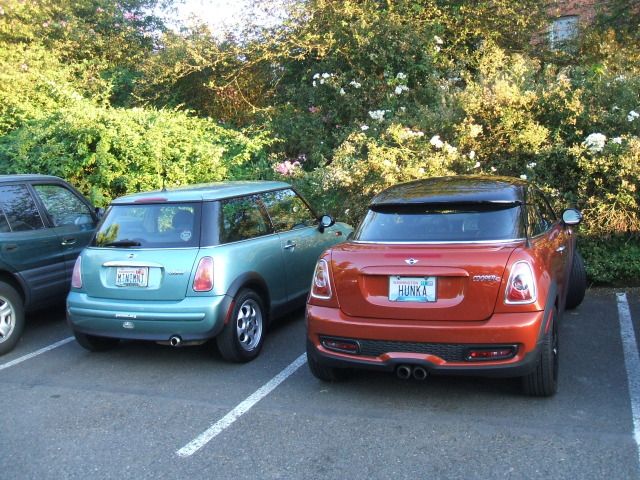 By sheer coincidence, Gordon and Shelly were also staying at McMenamins Edgefield on Thursday night! Imagine our surprise when we were walking back from the soaking pool to get ready for dinner and discovered their car next to ours. We were just getting away for a couple of days at the end of the summer and they were on their way to the Bend area to stay at a family vacation home.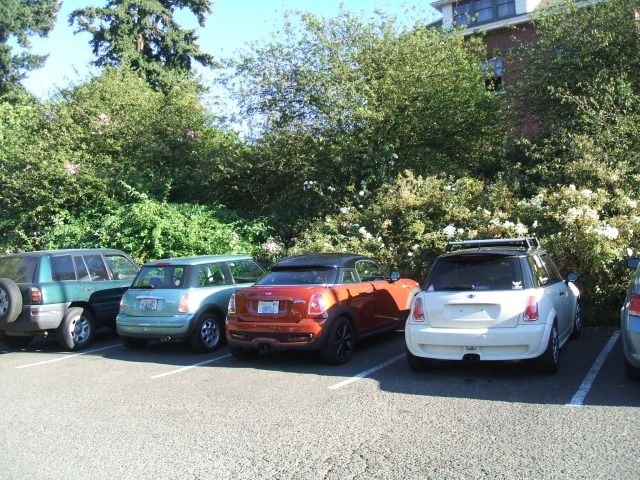 There were a few MINIs in the lot but the rest had Oregon plates. However, I thought this Pepper White one might have been traveling with them as it had 425 Motorsports stickers on it. I came back down to take these pictures and ran into Gordon taking pictures as well. He said that he didn't know whose car it was, though. It appears to be an "S" with the center exhaust and hood scoop but it had "Justa" side scuttles on it and a "Justa" full fuel door. Would have loved to see what the had done to the engine. It also had a full roll cage and appeared to have the rear seat deleted. Closer inspection revealed that it had an Oregon temporary tag.
We ran into Gordon and Shelly Friday morning and had breakfast with them and then ran into them again while hiking down from Multnomah Falls. Thanks for the company and the pictures!
For those of you who don't remember, we ran into Gina in Oregon on I-5 when bringing MINIMNT back home from California. Keep your eyes open when you are out of town!
Bruce


Edited by valvashon - September/01/12 at 4:28pm