Hope to see you there...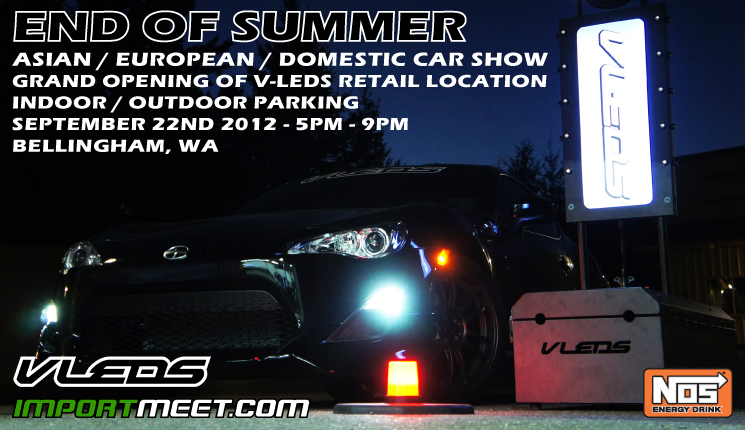 On September 22nd 2012, ImportMeet.com will be joining forces with V-LEDS to host a car show and celebrate the grand opening of V-LEDS' retail location in Bellingham, WA. All makes, models, and styles of import, European, and domestic cars are welcome at the show. The show will be held from 5pm – 10pm at V-LEDS warehouse/retail location. This car show is FREE to the public and you are only required to pay if you want to reserve a spot in the show.
There will be a taco truck and hot dog/hamburger truck selling various types of food. NOS Energy Drink is providing FREE energy drinks for the event.
There are approximately 100 indoor "VIP" spots available for car show participants. Outdoor car show parking around the facility will be filled until capacity is reached. $15.00 will reserve a spot in the indoor section of the show for ImportMeet.com members. $10.00 will reserve a spot in the outdoor section of the show for ImportMeet.com members. If you're not a member on our site, the price is $17.50 for an indoor and $12.50 for an outdoor spot. It's completely FREE to become a member on ImportMeet.com and you can register here if you haven't already to save $2.50. If you wait and register the day of the show, it will be $20 cash for an indoor spots or $15 for an outdoor spot (if available).
Please use the form at the bottom of the page to reserve your spot at the V-LEDS / ImportMeet.com End of Summer Car Show. Make sure you login to your ImportMeet.com account before clicking on the PayPal button below to ensure that you aren't overcharged. Select VIP parking for an indoor spot and general parking for a spot outside. This show will be held rain or shine.
Location:
V-LEDS
130 West Axton Road
Bellingham, WA 98226
Time:
3pm – 4:30pm (Parking and registration)
5pm – 10pm (Show begins and food trucks will be present)
Cost:
FREE for spectators – gravel parking is available – we recommend carpooling
$15.00 VIP indoor parking for ImportMeet.com members ($17.50 for non-members)
$10.00 general outdoor parking for ImportMeet.com members ($12.50 for non-members)
$20.00 VIP indoor parking for day of registration (if available)
$15.00 outdoor parking for day of registration (if available)
AWARDS
TBD
As in previous car shows organized by ImportMeet.com most of the awards will be voted on by competitors in the show. This is done via a paper voting card or smart phone.
REGISTRATION WILL OPEN ON AUGUST 27TH AT 8PM.
Facebook event page: http://www.facebook.com/events/126839024129501/